There will be a permanent indent of my body in one corner of the room when I get my hands on these anthologies.
Anthologies have always been my binge read. Like a good Netflix show, short stories keep me wanting more. The pages turn like rapid gunfire as I lust for each story, one after another like the next one could be one of those stories that stay with you forever and ever.
Here are my most anticipated speculative anthologies that are coming soon, or just out.
Chlorophobia: An Eco-Horror Anthology
This collection of poems and flash fiction is graced by a beautiful cover that communicates everything within. Edited by A. R. Ward, this collection brings together plants, animals, weather phenomena and terror, to shine a light on the horrors of the natural world. With a rise in popularity of eco fiction, this collection is on my must-list to see me into the new year. Authors include the talented Jasmine Arch and Sonora Taylor.
You can get Chlorophobia now.
 Were Tales: A Shapeshifter Anthology
This anthology has been on my kindle waiting for me to dive in. I'm not gonna lie, I wanted to be an Animorph when I was a kid – who didn't? The idea of sprouting wings and taking to the sky and being free of everything is surely the draw of this niche area of spec. Delving into these stories of animalistic transformations is worth saving for a stormy day.
Animal transformations rest in many of our societies' folklore and has always been human's way of bridging that gap between the unknown creatures of our world, and the safe haven of civilisation.
Buy Weretales here.
Hex-periments: A Dark Biotech Anthology 
Hex-periments is the pun we all needed in anthology form, and it's a feel-good read. All proceeds go to UK homeless charities who are facing their toughest season yet with UK government cuts to public spending and social care. These authors come together to bite back combining dark science and malice with the otherworldly and occult. This is the perfect anthology for those who love sci-fi and magic, and the kaleidoscope it makes when it twists together inseparably.
These fourteen tales explore the consequences of human intervention when propelled by a dark agenda. With an introduction by C J Tudor, this charity anthology will help the homeless with every penny going towards that cause.
Hex-periments is out now.
Skulls and Spells
Skulls and Spells, set for release in early Spring 2022, reached its funding goal in record time (plus stretch goals), as do most of the projects created by Jinx Peregrine (they/them) and Jonas Holt (they/them) from Scottish Indie press, Artemisia's Axe. A lot of diverse spec and horror is coming out of Scotland currently, with the likes of Gingernuts of Horror reviewing diverse speculative view points, Luna Press, Dead Ink and 404 Ink publishing underrepresented stories, along with opening submission calls to only underrepresented groups. It's these publishers that will be thanked for a more diverse future.
Skulls and Spells will be more than just stories. It will bring together 22 creators, including artists, writers and poets from the queer community for a colourful exploration of the theme, "Queer Horror Magic".
Find out more about "Skulls and Spells" here.
A Women Built by Man
Releasing in early 2022 from Cemetery Gates Media and edited by Elle Turpitt and S.H. Cooper, the anthology, A Woman Built by Man, brings together femme-aligned authors for an exploration into a difficult theme. The stories are based around how a feminine figure is shaped by male hands, what this means for a woman's narrative, and what ways horror presents this. Horror has always been a genre that explores the far reaches of our societal issues, and this anthology will be no exception.
With the likes of Hailey Piper, Gemma Amor, and Laurel Hightower gracing the contents page, this will be an excellent exploration into what this theme means to some of our favourite women horror authors.
I also have a story in there as well, so pat on the back for me, but really I am just excited to get tucked into this anthology from the heart and souls of the women in the horror industry.
Proceeds from the anthology are heading straight to a women's aid charity to be announced closer to release.
Watch out for updates from publisher Cemetery Gates here.
Generation Xed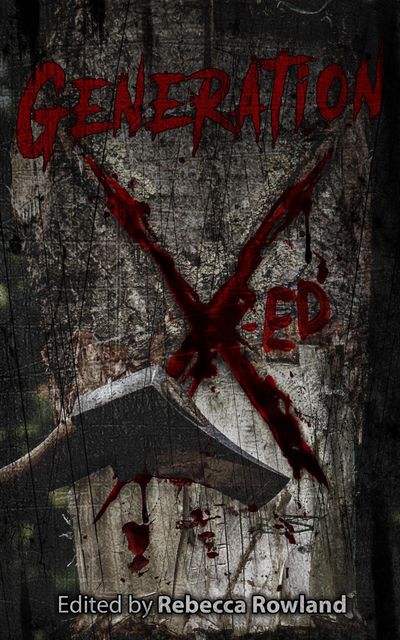 This anthology, edited by Rebecca Rowland and coming out 26th Jan from Dark Ink pulls together tales from the latchkey generation, AKA Generation X. An interesting perspective in speculative fiction, the unique anthology of monster, folk, paranormal, and psychological horror. Twenty-two authors reveal the cultural demons that lurked in the background while they came of age in the heyday of Satanic panic and slasher flicks, milk carton missing and music television, video rentals and, of course, the feminist punk ideals of riot grrrls.
Horror has always led us down a path to understanding our own society, so with the tagline "Horror written by the authors it created", it's no wonder this antho is on my holiday list.
Find out more about it on the editor's website here.